Airport Analytics Solutions
Surrounded by smart, passionate people and with the best tools and approaches at your disposal, you'll take giant leaps toward creating a business.
Solution Overview
Captures and Analyzes data around pain points to improve efficiency
Timely, Proactive Management reports and alerts
Aircraft Parking Space Productivity Index
Revenue and Growth driver analysis
Developed by a team that has over 500 man-years of BI experience
Complete Business Intelligence Solution for Airports.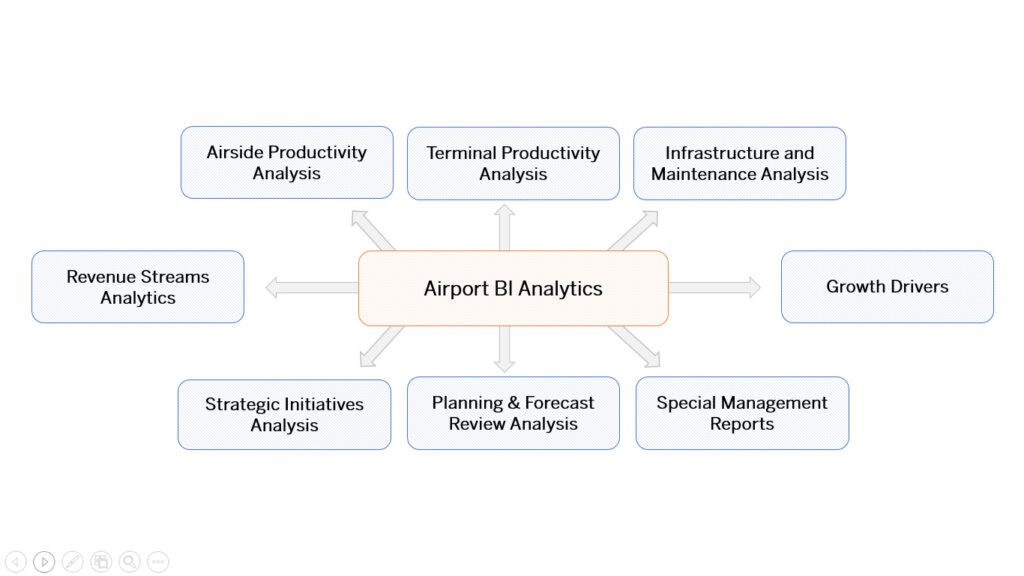 Airside productivity analysis
Gives Total Insight into Airline Productivity
OTP analysis
Aircraft Parking Space Productivity Index
Boarding Bridge efficiencies, Flight Productivity
Runway Productivity
SLAs and Ramp Efficiencies.
Terminal productivity analysis
Provides key insights into various efficiencies in areas such as
Check- in
Cute, Cuss
Baggage Handling
Passenger movement
Security
Terminal space Productivity Index
SLAs
Commercial Analysis such as Retail, DFS (Product and sector wise) ,F&B analysis, other leased space productivity like ATM's, Banks, Forex and Advertising
Growth Drivers periodic review
Provides insight into factors responsible for growth of an Area
Helps track growth and trends over previous periods
Allows management to take the appropriate decisions regarding expansion, Hiring, etc
Revenue streams analytics
Tracks Aeronautical and Non- Aeronautical revenue as a whole and also tracks revenues by all categories like
Airline, Passenger, Concessionaries, Retail, DFS, Car Park, etc.
Helps track revenue growth and trends over previous periods
Helps management make key data based decisions for future budgeting, allocations
Allows one to understand profitability within different hierarchies of the organization
Infrastructure & Maintenance analysis
Tracks the performance of Infrastructure from costs and maintenance perspective
Helps track growth and trends over previous periods
Helps management analyze clearly future requirements in terms of growth and utilization
Tracks the performance of help desk calls and maintenance response times including ARFF
Strategic initiatives analysis
Allows the Organization to make a comparison with other airports in the same segment by looking at the business performance, growth & trend analysis, and market share analysis
Also helps analyze any opportunity gaps existing in the business
Allows one to analyze the outcome of specialized activities and strategies
Planning & Forecast review analysis
Helps the Airport planning department for slot management by having Real effective data on the utilization of the airport from different areas
Helps track growth and trends over previous periods.Helps analyze Airport performance based on summer and winter schedules in co-relation to Aircraft movements, volume trend and passenger movements
Special Management reports
AOP Vs Actual Reports from Revenues( Aeronautical, Non Aeronautical) to Airline and Passenger Productivity, Cost & Profits Analysis (EBIDTA etc)
Score cards based on best practices and benchmarks
Management would be able to analyse specific issues for example concerning Revenues drill downs to the lowest possible grains, thus identifying the under lying causes from Airlines to Commerciaial areas
Our unique dashboard layout and data navigation mechanism enables users to quickly spot a non-performing areas of business or opportunities for growth:
Ready-to-use reports covering all core business areas
Modules include Commercial, Operations, Revenue and Financial
Easy to create and customize reports for immediate decision support
Flexible distribution of analysis by browser, e-mail, PDF documents and mobile devices
Individualized plug and play analyzer for power users
Interested? Let's get in touch!
Book a free consultation with one of our experts to take your business to the next level!