Recover About 1% Your Company Payments to Vendors
Not just an audit or recommendation list, but we perform all tasks for your organization to recoup somewhere between 0.2% to 1.2% of your total payments to vendors. Our clients pay us from recovered money.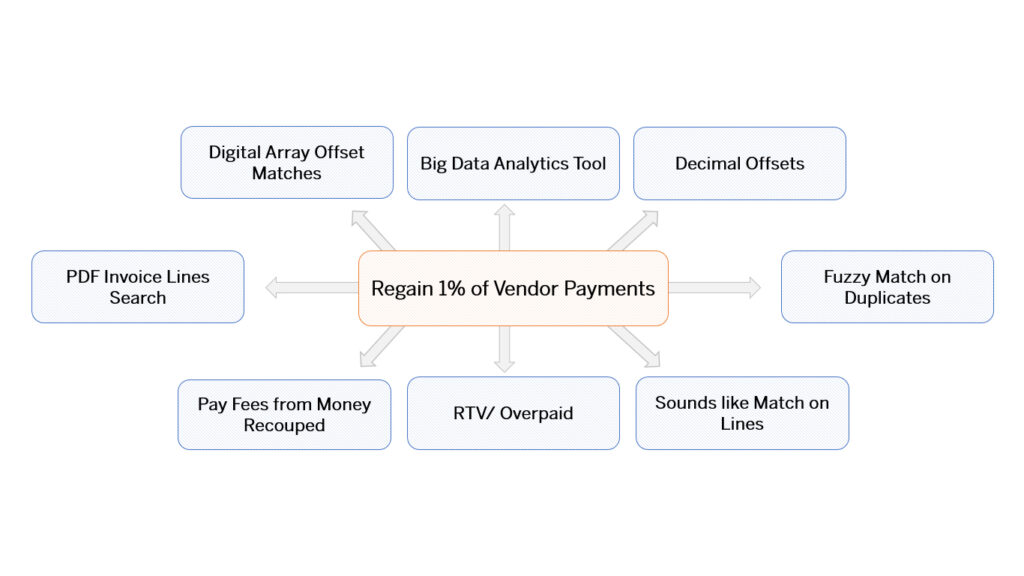 Recover about one percent AP Payments:
Breakthrough Algorithms for Duplicate Payment Checks
Amount Digit Array Offset Matches to Catch Decimal Errors
Algorithms for 'Sounds Like' Matches
BigData Analytics on Line Matches
Vendor File Cross-check with Employee File
FuzzyMatch on PDF Invoice Lines
Ensure RTV Credits
Recover Overpayments due to Errors
Abnormal Vendor Volume (at Invoice Line and by Period) Analysis
Vendor Report with Recovery Letters
Quartiz's SCM and Financial Expertise:
Financials and Supply Chain (FSCM)–– Our consultants bring vast amount of domain and technical knowledge to enterprise financial applications domain. Our consultants' extensive knowledge of table structure enables them to extract data required for analysis without needing to work with client's IT resources. Unlike most other firms, we just need access to data to begin the payment analysis project without technical assistance from internal client resources.
Team will bring to the project:
Exceptional Knowledge of Table Structure to Extract Data
Extract Data without Help from Internal IT resources
Industry Experts with Exceptional Analytical Skills to Unmask Duplicates and Errors
Help Prepare Strategy/ Timely Response to Vendors for Recouping Payments
Experts in Bank Reconciliation
Ability to Discern Outlier Amounts – both at Individual Invoice & Line Levels and Totals by Period
Recommend Improved Processes and Checks for future, as a Result of the Findings
If you're ready to review and fix payment/cash leakage that is resulting in higher costs, we will start with no-obligation project. With this project, you will not only save money by recovering from past payments but also improve processes and checks for the AP business area in the future. Win-win!
Interested? Let's get in touch!
Book a free consultation with one of our experts to take your business to the next level!