Access, prepare, blend, and analyze data with ease.
A complete set of services and suites for BI, Analytics, Big Data, and Data Integration.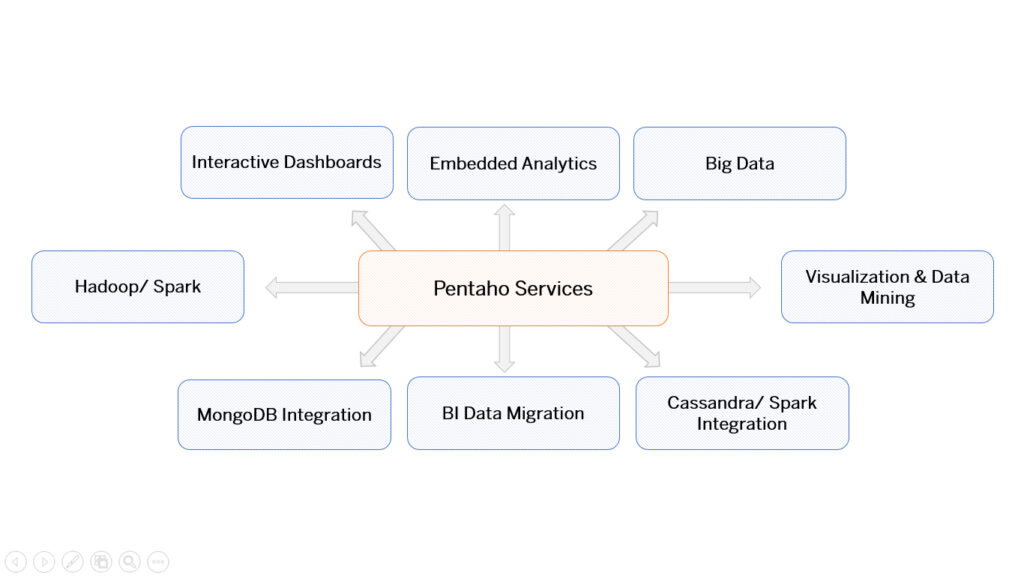 Setting-up Big Data Environment
Implementation of Big Data Hadoop distributions: MapR, Cloudera, Hortonworks
Implementation of Big data enabled databases : MongoDB, InfiniDB, AWS Redshift, HPCC, etc.,
Big Data Hadoop implementation with Pentaho
Real time Analytics with Big Data
Hadoop Consulting
Engineering capabilities to drive the Big Data initiatives with global customers
Packaged offerings to ensure successful big data deployments entire life cycle
Stress Performance Testing
Stress, Load & Performance testing based on enterprise specific requirements.
Improve response times within norms
Sustainability of concurrent users
Speed under massive load / sudden spikes
Embed Pentaho (OEM)
Customization and rebranding of User Console
New feature, or modify an existing functionality
Custom Plugins

Google Map Integration
Custom UI development
Liferay integration
Single Sign-on (SSO)
Big Data Analytics
Process and transform your data into Hadoop without Map reduce
Render data on our custom visualization and analytical solutions
Load operational data into Hadoop distribution such as Cloudera, MapR, Hortonworks, or Apache
Load files to HIVE, HBASE, or HDFS
Business Analytics
Translate Business use case to an intuitive dashboards
Create custom scorecards
Collaberation features and intuitive filters
Data Integration
Complext and large data integration
Data Warehouse (DWH) creation
DWH Capacity Planning
Data Modelling by domain experts
Redesign DWH to columnar one
Migration Services
Make organizations Big Data ready
Bring down cost by upto 90%
Migration

Older Pentaho versions to current version
From other ETL tools to PDI
System Health-check & Recommendation
General parameters such as CPU, disk & memory usage plus availability quick-check
Audit related data plus database and report layout bottlenecks
PDI related types of database connections – Native v/s ODBC
Application server related detailed checks
Review of the current deployment architecture
Review of security framework – authentication and authorization
Setting-up High Availability Multi-clustered Environment
Perform classic "divide and conquer" processing of data sets in parallel.
Java-based data integration engine with the MapRHadoop cache/ MapReduce task across all Hadoop cluster nodes
Use parallel processing and high availability of Hadoop.
Multi-tenant environment.
Architecture Workshop
Implementation of Multi-tenanted SaaS offering on cloud
Development of Pentaho extensions and plug-ins for multi-tenancy support
Data modelling for multi-tenancy
Setting-up Cloud Environment
BI and DWH setup and maintenance in AWS and Rackspace
Setting up Content Delivery Network for AWS and Rackspace cloud offering
Production Monitoring
Interested? Let's get in touch!
Book a free consultation with one of our experts to take your business to the next level!