Enhance operations and respond swiftly to changing market dynamics
The once booming Manufacturing sector is today plagued by shrinking margins, competitive pressures, and consumers have multiple options. At the same time, internal operations and external supply-chain activities have become more complex, making them much harder to streamline, track, and control. This has resulted in companies in the manufacturing industry finding new ways to optimize productivity, improve customer service, expand market share, increase revenue, and minimize expenses.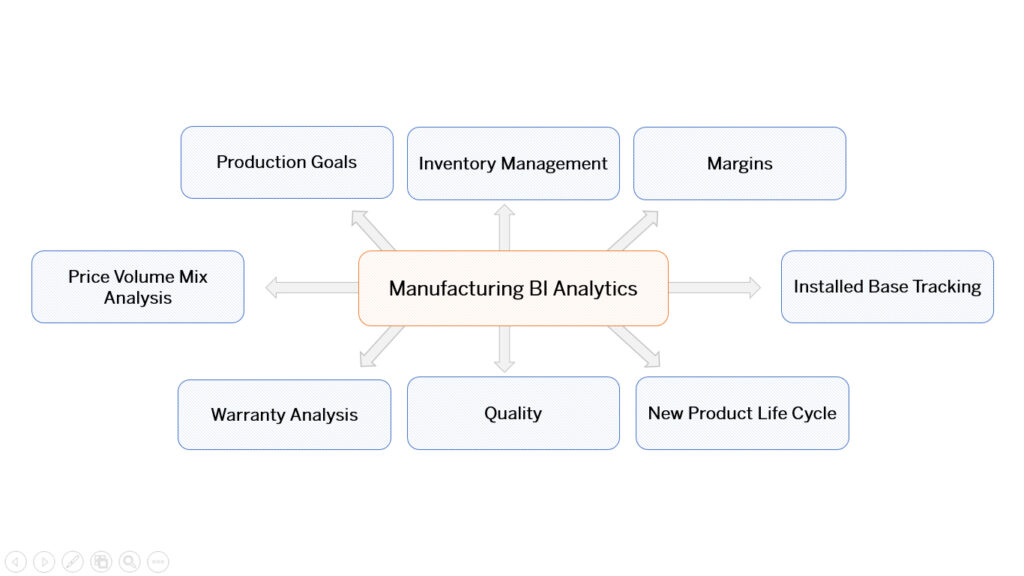 With our Business Intelligence solutions, ETL and Data Management solutions, manufacturers across all product line and across geographies can dive into supply-chain management, production, customer relationship management, materials management, and other home-grown systems to enhance operations, respond swiftly to changing market dynamics and customer needs, improve supply chain relationships, identify and leverage new revenue streams, reduce waste, and operate more cost-efficiently.
The team that delivers to the Manufacturing Industry has over 500 man-years of Business Intelligence experience . Business Intelligence dissolves information silos and increases collaboration between Fulfillment, Marketing, Sales, Warehouse, Production Customer Service and Suppliers. By transforming the data generated by disparate systems into a single version of the truth, Business Intelligence provides a competitive advantage.
Functional Summary of Manufacturing BI Solution
Our Manufacturing BI solution provides the information our manufacturing and distribution customers need to make better more informed decisions in key business areas including the following areas:
Operational Intelligence — Integrate isolated silos and consolidate data from multiple sources for improved production planning and scheduling; Use dashboards and scorecards to monitor key operational metrics; Monitor and maintain quality throughout product lifecycles, identify and analyze issues and concerns pre-production
Supply Chain Intelligence — Analyze information across the supply chain to better meet customer demands and improve the delivery of goods. Track the performance of suppliers, use notifications to better manage inventory across the supply chain; monitor and report on actual productivity and business value of vendor and partner engagements. Use reliable demand-planning capabilities to control costs and align vendors to business goals.
Customer Intelligence — Analyze information on customer expectations, better connect with customers and quickly respond to needs. Use dashboards to gain a "single view" of customers across the organization to offer customized care, service and support. Tailor marketing campaigns to certain groups of customers; use customer information to coordinate follow-up activities, promotions and offers.
Channel Intelligence — Use timely, consistent and accurate reports for visibility into channel activity; use reports to show sideways movement of products, excessive returns, and the true cost of product channel distribution. Analyze sales trends and customer buying patterns to report on margin performance, customer satisfaction and campaign effectiveness.
Manufacturing Management Analytics
Production Goals

Back Log %
Capacity Utilization %
Uptime %
Failure Cost Value
QC Reject Rate %

Inventory Management

Inventory Ageing Days %
Inventory ABC Analysis Value
Inventory Turns Ratio %

New Product Life Cycle

Product Development Cost Value
Product Development Lead Time Days
Product Milestone Plan V/s Variances

Price volume mix analysis – Manufacturing companies must process an immense amount of information regarding the pricing and volume of products. By integrating this massive amount of information through in-depth analysis, BI allows companies to gain insight into budget variances and make better placement decisions for products.
Installed base tracking – For many manufacturers, keeping track of where their products are installed gives them tremendous opportunities for post-sales services and additional sales. Having adequate and accurate installed base data is essential if manufacturers want to maximize their profits from this revenue source. BI's comprehensive reporting and monitoring capabilities enable manufacturers to track installed products, as well as the costs and revenues associated with after-sales services to determine the most cost-effective offerings. In addition, users can set up real-time alerts for notification of maintenance schedule requirements to take advantage of additional marketing opportunities.
Warranty analysis – Warranties are one area where manufacturers can greatly reduce costs by ensuring original quality. By analyzing warranty costs, companies can identify possible faulty manufacturing and detect emerging problem areas. Through analysis of warranty claims and call center data, manufacturers can reduce and forecast warranty costs and also identify fraudulent claims.
Manufacturing BI Tools
Quite often, in our experience of 100+ BI implementations, the observation has been, the apparent confusion or lack of clarity on sets of tools to be used in customer's BI, Analytics and IT landscape. This not only delays the project but in many cases due high costs of 'tools for tools' or more software and escalating costs, brings the BI project to an absolute standstill. This only impacts the customer adversely, more so in a capital intensive and high inventory industry like Manufacturing, which just cannot afford to do business without a smart BI solution to make a fact based decision. Especially today, with thinning margins and pressure on costs, the need to make operations more effective and monitoring waste in all forms through factual data has become imperative for the Manufacturing industry globally. Our approach coupled with our platform agnostic solution and BI roadmap consulting ensures that Customer maximises its existing infrastructure to the fullest.
Following are BI tools related salient features :
Built on best-in-class BI Technologies and open standards such as Pentaho, R (Data Mining Tool), Fusion Charts, Aspos (Microsoft Interface) and DHTML UI components.
Plug and Play Solution approach, major technology components can be interchanged with any third party components like ( Pentaho, IBM Cognos, SAP BO, OBIEE,Qlikview to name a few)
Built on best-in-class BI Technologies and open standards such as Pentaho, R (Data Mining Tool), Fusion Charts, Aspos (Microsoft Interface) and DHTML UI components.
Plug and Play Solution approach, major technology components can be interchanged with any third party components like ( Pentaho, IBM Cognos, SAP BO, OBIEE,Qlikview to name a few)
Technologically Superior:
Single 'zero footprint' user interface: serving all kind of users and their information need
Common metadata repository: built using common warehouse model (CWM)
Platform and vendor independent
High performance architecture: airport business centric algorithms and models
SCD2 (Slowly Changing Dimensions, Type 2) and Type 6/Hybrid compliant data warehouse model
Multi-currency, multi-language support
Mobile interface embedded
Quality Enhancement
Manufacturing BI can be used to generate unique specifications for your new products, correlate product performance to methodology and process variables, and perform quick root cause analysis for quality. To enable fundamental quality improvement, our BI solution allows self-service discovery for early insight into unknown production trends, relationships and outliers. The collaborative aspects of the BI solution provide insights into problems and opportunities that can be shared so test and quality engineers can collaboratively discuss trends and anomalies. Quality control and product performance are enhanced when you apply our manufacturing analytics prior to and during product development and production processes. Whether you want to examine trends, materials or do parts comparisons, using manufacturing analytics gives you amazing details and insight needed to reliably assess potential and real outputs. Our manufacturing analytics solution gives a solid base on which manufacturers can create highest quality products. Engineering and product teams involved in testing can easily identify and discuss opportunities and problems. If you are seeking an excellent way to achieve quality control you are at the right place.
Margins Enhancement
You can use our Manufacturing BI solution to slice and dice your production inventory by any variable, drill into aggregate metrics like throughput and cycle time from months to fraction of a second and get detailed work-in-process data on demand from any related source. The BI solution can also assist you to better understand trends in yields, margins, retest and reclaim rates. From here on , customers can harness the combined knowledge and experience of the entire engineering organization.
Management Insights
We help global organizations transform their businesses and break into Fortune 500 companies by delivering agile & actionable BI solutions.
With the Manufacturing BI solution organizations can:
Boost awareness for your top product lines in specific markets
Maximize productivity and revenue across all your product lines
Reduce costs drastically and risks by streamlining your operations
Increase agility by introducing new relevant products to market faster
Encourage collaboration & innovation to consistently stay ahead of your competition
Interested? Let's get in touch!
Book a free consultation with one of our experts to take your business to the next level!