Quick and easy analytics on product and business performance.
Insurance Analytics solution is a comprehensive Performance Management pre-built solution specifically developed for the CXO level officers and Senior Management of Insurance Companies, covering the following major areas.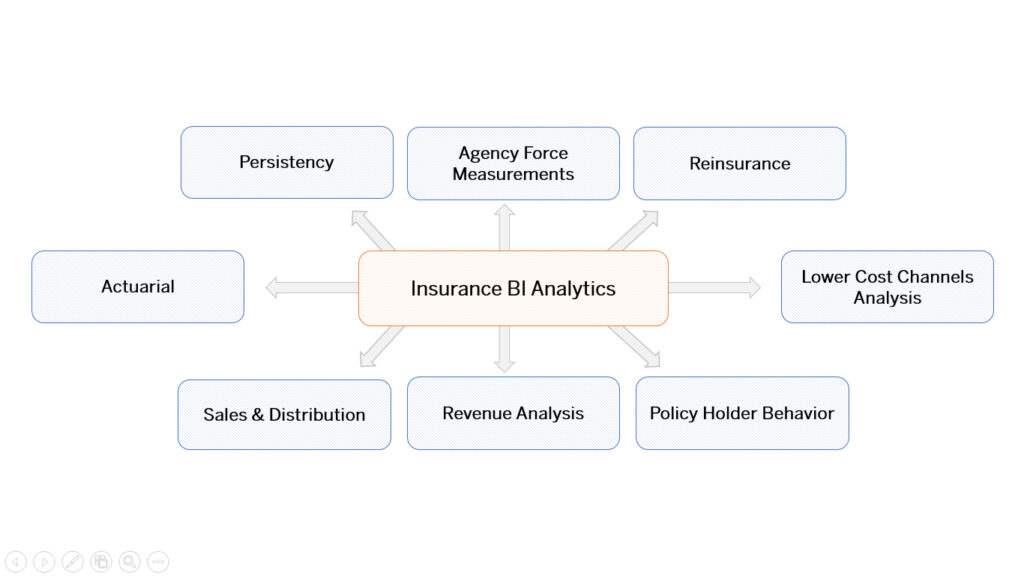 The Solution comprises a insurance-specific enterprise data warehouse and business intelligence suite, incorporating an integrated stack of various components like scorecards, dashboard, adhoc analysis, management reporting and advanced analytics with data mining engines.
New Dimensions to Insurance Analytics
An out-of-the-box Management Reporting solution that covers complete spectrum of insurance business such as Sales, Marketing, Claims, Operation, Underwriting, Finance, Re-insurance and Actuarial. Solution offers vast repository of insurance-specific dashboards, KPI's and metrics – running into several hundreds. This repository is expanded and enriched on a continuous basis by way of our understanding of best practices followed in various geographies, insurance segments and end user suggestions. This role-based analytic application is designed to help complete spectrum of the insurance business across departments such as:
Agency Force Measurements
Compliance
Lower cost channels analysis
Autonomous technologies (auto insurance) affecting the landscape
Group Insurance
Policy Holder Behaviour
Persistency
Management Dashboard
The Management dashboard gives the leadership team a bird's eye-view of all the key functions and mission critical aspects of the business. This dashboard broadly covers the key functional areas encompassing the complete Insurance business. This dashboard also has the ability to showcase tactical scenarios of the business which can assist strategy decisions of the business across business lines and functions.
Sales & Distribution
Maximising growth in the insurance industry depends on effectively managing multiple distribution channels and intermediaries. Our Sales & Distribution Channel analytic covers Agency, Bancassurance, Takafful, Alternate & Direct Sales. Our highly interactive dashboard comes with the top 10 KPI's with multi-layer drill down for various analysis. The score cards covers the following business metrics:
New Business Premium ( NBP), Average Premium & Renewal Premium
New customers acquisition & existing customer retention
Agent licensing, Activation, case rate & Productivity
Manager's Performance & Productivity
Branch Productivity and contribution
Leaders board ranking of Top 10, bottom 10 branches, Top 100 agents
Sales Contest and Rewards & Recognition
Marketing
To adapt to the changing market landscape, an organization must monitor changes in buying patterns and behaviour of the customers based on demographics, geographies, psychographics profiles. The analysis of existing customer's data can through many insights of the customer such as their buying behaviour, buying Pattern, brand loyalty, investment pattern, customer churn etc. Such insight can be of great help to Marketing personnel while devising new Marketing strategies.
Solution offers comprehensive marketing analysis on the following metrics:
Customer segmentation on various attributes
Customer Profiling for up sell / Cross sell
Market trend analysis
Market Share & Competitors Analysis
Product Mix Analysis
Product Profit Analysis
Customer Churn Analysis
Marketing Campaign Analysis
Claims
Claims are the single largest cost centre for insurers with an average pay out of 60-80% of the premium earned. Insurance companies are attempting to improve customer satisfaction while continuing to contain costs and expenses.
IA+ Solutions provide claims Heads with spectrum of information required to monitor claims activity and manage effectively. The intuitive dashboard offers various metrics & KPI's on claims.
Claim Incident Rate & Claim Growth Rate
Claim Closure Ratio, Claim Payout Ratio Loss Ratio
Claim Cost Analysis, Average Claim per Cost
Claim Paid by product line
Claim by distribution Channel
Claim Turn Around Time ( TAT).
Underwriting
Underwriting is based on analysis of claim experience by different portfolio and segment which relate to premiums and exposures. Each insurance product underwritten by a company maintains its own characteristic of risk such as Vehicle type and driver age for motor vehicle insurance, building type and floor for home insurance, occupation and health status for health and accident insurance. To determine insurance pricing correctly, underwriters need to analyze claim experiences for each product according to its specific risk parameters
The pre-built content of IA+ will assist the Underwriters to analyse various metrics & KPI's which are critical to the insurance portfolio such as:
Profitability indicator ( Loss Ratio, Risk Cost per Policy)
Product Section Analysis
Rate Monitoring
Client Level Reporting
Underwriting decision
Claim detection on the basis of Underwriting decisions
Operations
One of the most important parameter of Operation head is to improve Operational efficiency by carefully improving each & every process from Policy logins to Policy issuance. The Operations Head has to oversee the processing of large volume of Insurance Proposal with minimal turnaround time (TAT). In addition to Policy issuance & Policy dispatch they also have to handle agent licensing, commission payouts, renewal premium collection & customer service with greater efficiency. Operations score card covers from Policy submission to policy Issuance and includes Premium Pending by buckets, Policy dispatch, Policy Renewal Collection, customer's complain resolution & Turnaround time ( TAT) analysis.
New Business Analysis
Pending premium analysis
Agent licensing
Policy Owner Services ( PoS)
Customer complaint & Resolution
Customer Churn & Retention Analysis
Policy Renewals & Persistency Analysis
Actuarial
The actuarial department is responsible for collecting various information that goes into calculation of a credible premium for covering company's insurance policy, determining the adequacy of reserves to meet the firm's obligations to policyholders under the contracts they have issued, determine the premium rate of new policies that will be of benefit to the insurer.
IA+ Solution enhance Actuary and Risk team's ability to strategically plan their product pricing & reserves which is aligned to all the stakeholders including policy holder. The key metrics of IA+ offers the followings:
Experience Analysis
Surrender rate
Persistency Rate
Withdrawal Rate
Mortality rate
Morbidity Rate
Loss ratio
Repayment Rate
Claim Triangulation
Product Profit Analysis
Claim Cost Analysis
Profiling of Risky segment
Solvency Ratio
Asset & liability
Finance
Finance reporting for Insurance Industry is very different than other Industry. The finance Manager of Insurance Companies not only has to maintain the balance sheet and P&L account but also comply with various regulatory requirements such as Solvency margin & investment norms.
IA+ offers comprehensive Finance analytic solutions for the Finance Managers & CFO of insurance companies to address daily, monthly, quarterly and annual reporting on the following parameters.
Revenue Analysis – Actual Vs Budget.
Revenue Trend ( Month on Month, Qtr on Qtr & Year on Year ( YoY)
Portfolio Analysis of various funds and customers
Company Reserves & solvency margin
Cost Analysis by each expenditure heads
Cost expenditure by each cost centres
P&L account for each branch as separate cost Centre
EBITDA & Profit after Tax
Ratio Analysis ( Liquidity Ratio, Asst Ratio, Profitability & debt Ratio)
Reinsurance
Profitability of Insurance companies is not only driven by focusing on top line growth but also managing the risk by sharing the risk exposure with the reinsurer by ways of treaties. It is also important to analyze reinsurance premium, reinsurance claims and loss Ratio by each product line and business units.
IA+ offers various metrics & KPI's of Reinsurance which can be very useful in the hand of reinsurance manager & Actuarial such as:
Reinsurance Portfolio Anlaysis ( direct or ceded margin, Treaties, etc.)
Risk Exposure Analysis
Exposure Monitoring & Reporting
Reinsurance claims v/s Reinsurance premium
Loss ratio by each Product line & customer portfolio
Interested? Let's get in touch!
Book a free consultation with one of our experts to take your business to the next level!