Enterprise reporting that scales up as your business grows.
A complete set of services and suites for BI, Analytics, Migration, and Data Integration.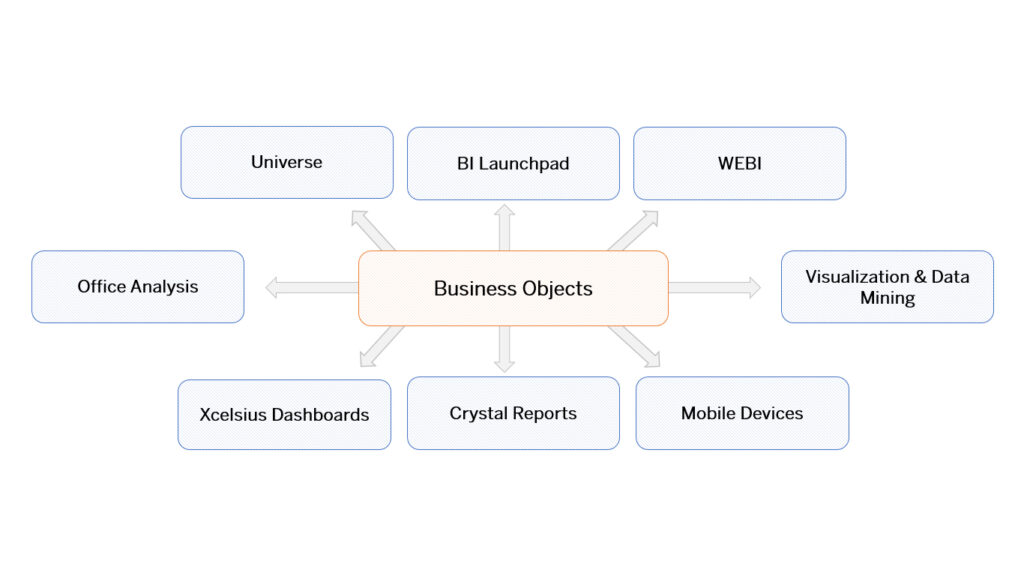 Concept Dashboards
 Knowledge of Industry best practices
Xcelcius Dashboard experts
Dashboard Manager & Analytics experts
Business Objects Migration
Data Access

Integration with SAP BW
Integration of semantic layer
Multi-source Universes

64 bit architecture
Information Designer UNX format
Universe Design
Best Practice design
Optimal Unverse size
Per Business Unit considerations
One Data Foundation, Multiple Views
Linked Universes
Kernel, Master, Component Approaches
BI Presentation
Scorecarding
Xcelsius Dashboards
Crystal Reports
Portal and Customization
Infoview/Launchapd
BOBJ and Netweaver Portal Integration
Deliver Content based on SAP user roles and groups
Import EPA file to portal
Prepare of EAR file from EPA file
Deploy EAR using Netweaver Developer Studio
Use SAP Business Objects System Template
Connect more than BOBJ system to Single Enterprise Portal
System Health-check and Recommendation
General parameters such as CPU, disk & memory usage plus availability quick-check
Audit related data plus database and report layout bottlenecks
PDI related types of database connections – Native v/s ODBC
Application server related detailed checks
Review of the current deployment architecture
Review of security framework – authentication and authorization
Setting-up Cloud Environment
BI and DWH setup and maintenance in AWS and Rackspace
Setting up Content Delivery Network for AWS and Rackspace cloud offering
Production Monitoring
Stress Performance Testing
Stress, Load & Performance testing based on enterprise specific requirements.
Improve response times within norms
Sustainability of concurrent users
Speed under massive load / sudden spike
Interested? Let's get in touch!
Book a free consultation with one of our experts to take your business to the next level!