Business Intelligence through intuitive spatial visualization.
A complete set of services and suites for BI, Analytics, Migration, and Data Integration.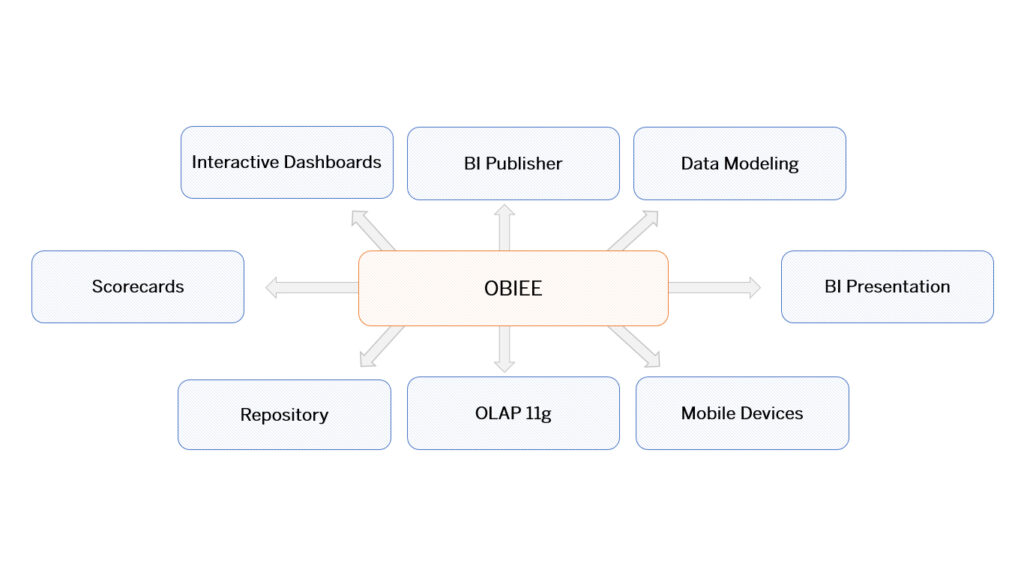 Oracle BI Presentation Services
Interactive Dashboards
Reporting & Publishing
Proactive Monitoring
Alerts
Ad Hoc Analysis
MS Office Integration
Role based security
BI Publisher Integration
Repository
Using Oracle BI Administration Tool
Physical Layer Building

Metadata
Aliases
Keys and Joins

Business Model and Mapping Layer

Logical Tables, Joins, Data Sources
Rename Wizard
Create Measures

Presentation Layer of Repository
Testing and Validation
OBIEE 11g Repository Building
Create Indexes specific to Databases
Supports heterogenous database environments
OBIEE Data Modeling
Abstracted Data Models
Conformed Dimensions
Fragmentation
System Health-check & Recommendation
General parameters such as CPU, disk & memory usage plus availability quick-check
Audit related data plus database and report layout bottlenecks
PDI related types of database connections – Native v/s ODBC
Application server related detailed checks
Review of the current deployment architecture
Review of security framework – authentication and authorization
Setting-up Cloud Environment
BI and DWH setup and maintenance in AWS and Rackspace
Setting up Content Delivery Network for AWS and Rackspace cloud offering
Production Monitoring
Stress Performance Testing
Stress, Load & Performance testing based on enterprise specific requirements.
Improve response times within norms
Sustainability of concurrent users
Speed under massive load / sudden spike
Interested? Let's get in touch!
Book a free consultation with one of our experts to take your business to the next level!