Peoplesoft Fixed Price Support Services of Company
Resolve issues pending for several months, reduce ticket count by analyzing patterns and root causes, reduce recurring issues, evaluate configuration for better process mapping, validate data at field level to reduce production support tickets and many more to improve customer satisfaction levels.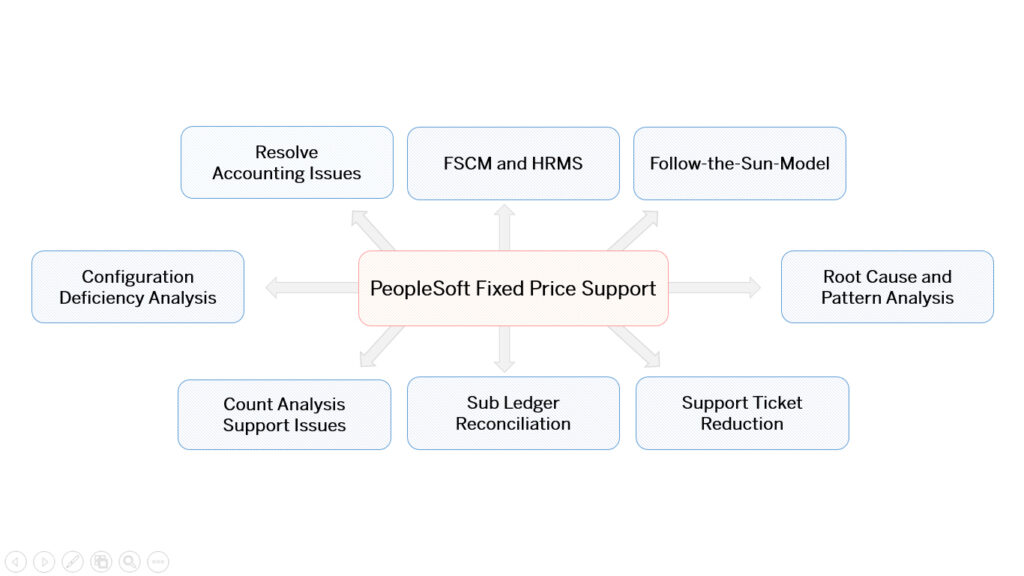 PeopleSoft Production Support Issues Resolution (HCM, FSCM, CS)
SCM AWE workflow reconfiguration
Cost Accounting Issues
Human Resources and Payroll Support
Campus Solutions
Landed Cost and Variances
Sub Ledger or Inventory Value Reports not matching with GL
Third Party Billing Interface
Warehouse Integration
CMS 9010 reconciliation and Quantity Update
Inventory Quantity out-of-sync
Simplify ePro and PO approval processes
Month-end closure and reconciliation
Root Causes and Recurring Issues Pattern Analyses
PO Not closed issues
Staging Data Issues due to default values not configured
Records locked in tables
Third Party processing interface issues
Reduce support ticket incidents up to 25%
Reduce the number of data updates thru SQL scripts
Supply Chain, Finance, Manufacturing, Human Resources areas
Round-the-clock support
Expedited resolutions by going thru frequently occuring check-list/steps
Ready to get started?
Book a free consultation with one of our experts to take your business to the next level!